YOUR PHOTOS DESERVE TO BE PRINTED.
Have you tried to make a book before but….
were overwhelmed by the number of photos in your library
could never decide which photos to select
get stuck creating a stylish layout
Have you tried to make a book before but….
were overwhelmed by the number of photos in your library
could never decide which photos to select
get stuck creating a stylish layout
YOU'LL LOVE THE PHOTO BOOK STARTER KIT.
It gives you everything you need to make a photo book.
All you have to do is find your photos using the prompts, place them into the pre-designed custom layouts, review and print!
Photo Prompts
If you have plenty of photos but always get stuck selecting which ones to use….you'll love my photo prompts. I tell you exactly what photos to look for and how to efficiently find them your library.
Drag & Drop Custom Layouts
I've prepared custom-designed layouts that fit the photo prompts. My layouts include photo boxes that are the right proportion for your photos. Plus, I've taken the time to center them to create a unified look throughout the book.
Print Ready
With photo prompts and custom layouts suited to your photos, everything is ready for you to place photos, preview and print. You'll have a clear strategy to produce a beautiful photo book, quickly.
Printing your photos matter.
It matters for the exact same reason you pick up your camera. To document your everyday. To capture your life. To define your family at this very moment. Years from now, you'll be able to sit down and flip through your photo book and remember what life was like. You'll remember the mismatched outfits, the bedhead hair, the way your kids played make-believe, and the bedtime routine.
The Book This Project Starter Kit is perfect for the busy mom who loves to take photos of meaningful moments yet never knows where to start when it comes to putting those photos in a stylish, unique photo book.
THE SPECIFICS:
124 page designed-for-you landscape photo book template
100 photo prompts for easy photo selection
template instructions explaining the process
template tips to customize your book
photo selection tips for Lightroom
12 color jpegs to add vibrancy to the layouts
10 pattern jpegs in every jpeg color provided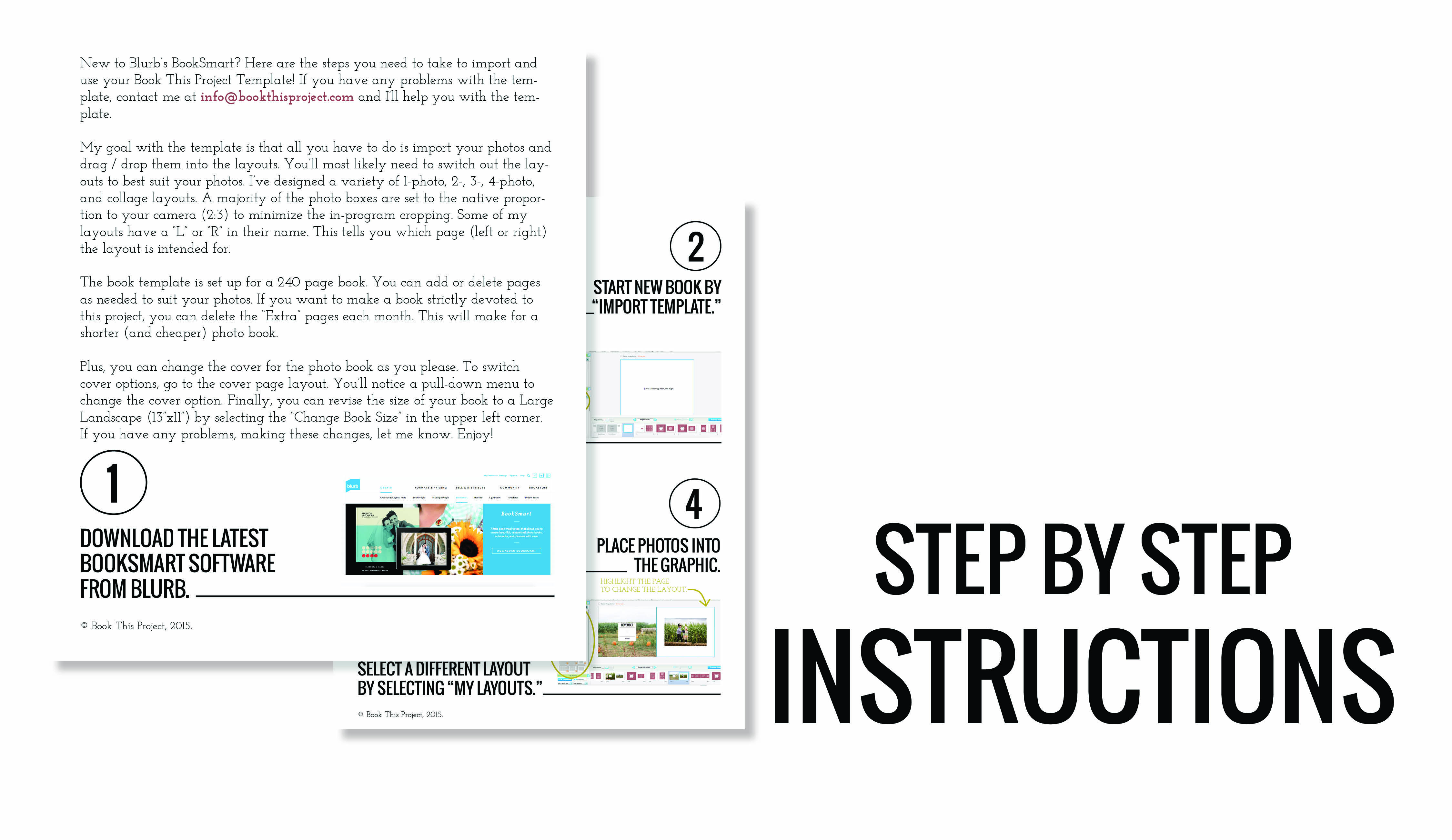 Ready to print your photos?
designer
stacey wiseman
Stacey has been designing photo books for her family and several families around the world over the last four years. She believes documenting your everyday through photos is only the first step. There is immense value in printing your photos and she's on a mission to help others effortlessly print their precious memories. As an instructor of Photo Book Design Workshop at The Photographer Within, she illustrates how to craft a vision and execute a design to print photos with style. Last summer, her Four Letters photo book was selected as one of Blurb's Favorite Books.
Somehow, someway, Stacey will teach and even better, motivate, you to get your book project DONE!
Jessica Thomason
Stacey made designing the book fun and easy.
Maibritt Olsen
It was exactly what I was looking for, and I came away learning so much more than I was even expecting.
Mary Noce
EXAMPLES OF THE PHOTO PROMPTS
MY PHOTO BOOK USING THIS TEMPLATE
Frequently Asked Questions
Do I have to be familiar with the software to use the template?
No. I provide all of the direction you need in order to use the template when opened. If you are familiar with the BookSmart or BookWright software by Blurb, it will be easier for you to customize the template to suit your particular vision.
What is your refund policy?
Since this is a digital download with the material provided upon purchase, there is no refund available.
Do I need specific software to use this template?
You will need to download the free design software BookSmart or BookWright from Blurb. I show you exactly what to download in the Template Instructions. You will have an easier time if you already use a photo catalog such as Lightroom (my preference), Bridge, iPhoto, Windows Picture Viewer, etc. I'll also make suggestions on free fonts to install on your computer to use with the template.
What files do you receive when purchased?
Once you purchase, you'll receive a download with the following files:
BookSmart Template (only available for Blurb's free BookSmart software)
Template Instructions PDF
Template Tips PDF
Photo Prompts PDF
Photo Prompt Tips PDF
Color JPEGS
Pattern JPEGS
Plus, you'll receive weekly emails with the each set of prompts so you can select photos in bite-sized chunks. Perfect for busy moms who only have an hour a week to devote to making a photo book.
Ready to print your photos?