Every month you take precious photos of your everyday. Your kids growing up. Your life, just as it is.
You've taken hundreds, wait, thousands, of photos documenting your life. But then what? Your Lightroom catalog is swarming with  unprinted photos. You want to print them in a photo book….but it seems so impossible. Where to start? What photos to select?
Book This Project shows you how you can organize and print your photos with success and without overwhelm. I'm Stacey Wiseman and I help photographers – hobbyists and professionals – print their photos.
While there are plenty of resources out there to show you a better way to take a photo…or process them once you've captured a moment…Book This Project is the place to go to learn how to print your photos in a concise, beautiful way.
Whether you want to learn how to design yourself, or have me design a book with your photos, I'd love to work with you.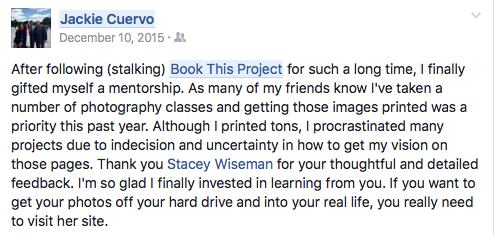 Access my free photo book resources.
Find out my camera gear and favorite photo book programs.

My go-to app for remembering the hilarious things my kids say….to put in my photo book.

40 Must-Have Photos for your Annual Photo Book.
Just like you, I'm a mom who loves to capture the my kids growing up. The fleeting moments, the laughter, the tears, the play and the love. Check out what our 2015 looked like:
Have a question about me? My custom design services? Or my workshops? I'd love to hear from you! Fill out this contact form and I'll get back to you as soon as possible!